A Recycling Partner – NGK Sparkplugs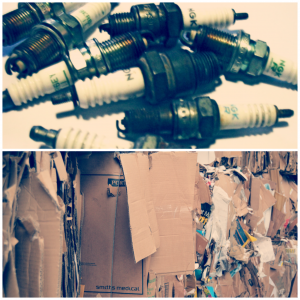 For over 20 years and with about 500 associates, NGK Spark Plugs U.S.A., Inc. has manufactured and sold oxygen sensors, spark plugs and related products for internal combustion engines in Sissonville, WV. Since nearly the beginning of the company, NGK Spark Plugs have partnered with West Virginia Cashin Recyclables, Inc. to provide a green solution to the facility's manufacturing process.
Each month West Virginia Cashin hauls and processes cardboard, metal, insulated copper and steel for the Sissonville manufacturer. "Like all manufacturing facilities, we do generate waste. The difference at NGK is what we do with our waste," said Randy Rader, environmental administrator at NGK. "We understand the impact of our efforts on the environment, and because it's a priority at NGK, we enjoy the added benefit of aligning with an environmentally-concerned company, such as West Virginia Cashin," continued Rader.
Approximately 600 tons of scrap material is processed at West Virginia Cashin's Nitro facility each year from NGK.
Contact West Virginia Cashin today to learn more about how your company can implement a recycling plan that diverts waste from landfills and puts money in your pocket!