Is a Roll-Off Container Right for You and Your Company?
With over 200 roll-off containers available (in varying sizes) for service, discover the benefits of utilizing this simple method of scrap metal removal – Best of all, CASH IN at the end of every project!
Are you one of the following?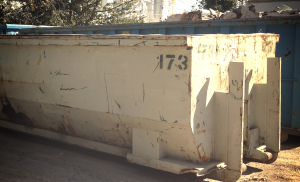 Industrial/Commercial Company
Private Individual
Local Government or Community Organization
The bottom line – If your project generates a large amount of scrap metal, a roll off container can benefit you or your company!
Our containers are available for one-time scrap collection or regular pickup services – you choose!
Containers can be dropped off at your project site at your own convenience.
Utilizing roll-off containers help ensure a safe and clean project environment and prevent accidents that may occur by storing scrap metal improperly.
 Once you've filled your container or your project is complete we will collect the container providing a stress-free experience while saving you time!
Oh, and CASH IN at the completion of every project!
Keep WV Cashin in mind – no matter what kind of project you have, WV Cashin has roll-off containers to fit your needs.