Taking Safety Seriously at West Virginia Cashin
Observed annually in June, National Safety Month focuses on reducing leading causes of injury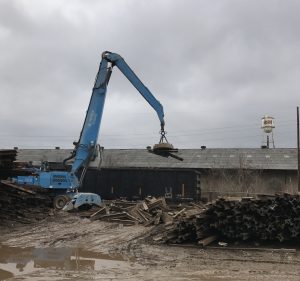 and death at work, on the road and in our homes and communities. As a community and industry leader in the recycling industry, West Virginia Cashin Recyclables has taken crucial steps in providing a safe environment for employees and customers alike. Every day employees operate heavy machinery, handle hazardous metals and must safely dispose of chemicals. In addition, West Virginia Cashin must provide a safe environment for customers as they interact around the facility and equipment.
Enter Jeff Baird, West Virginia Cashin Safety Manager. Working tirelessly to ensure the safety of employees and customers, Jeff promotes and educates the Cashin team on safety techniques and topics and is always looking at ways to enhance the safety of the Cashin facility.
Q. During a recent interview, Jeff opened up to us on how employees stay safe on the job and shares some tips for the everyday scrapper.Q. How long have you been Safety Operations Manger and what drove you to become one?
A. I gradually stepped into the Safety Manager position in 2013. Management staff jointly shared the role before I took over. Previously, I was Operations Manager and handled bookkeeping and taxes for a while. Later on, I traveled, dealing with industrial accounts and interacted regularly with those groups while on the road.
Q. What safety precautions would you give to scrappers?
A. The advice I would give is to always wear gloves when bringing your material to the scrap yard. In addition, wear good shoes that are closed toed and a pair of safety glasses is recommended.
Q. What trainings or certifications are required for employees?
A. Once hired employees have to go through a hazard assessment training and orientation and learn of the dangers of the job to become a laborer, which is typically the first position.
After becoming certified and trained to use wire strippers, cut off saws, cutting torches and more they can become a forklift operator and take the certification course. The forklift certification takes about 4-6 hours of classroom instruction with me and then a completed written examination before the supervised driving portion of the test occurs – which usually lasts a week. Other certifications include a Skid Steer class and test and then heavy equipment certifications in order to operate cranes, sherer, and the magnet.
Employee's training and certifications are all documented and its required they prove comprehension and understand proper safety measures and operation.
Q. How does Cashin provide a safe environment for customers within the facility?
A. One thing we are very mindful of at West Virginia Cashin is to watch the traffic and customers closely. They aren't always aware of the hazards of a scrap yard so we keep an eye on and direct traffic in order to keep everyone safe within the facility. We also try to keep all people in their vehicle unless they are actively unloading their scrap. In a lot of cases, we are there helping customers out with unloading material if it's too much for one person.
Q. Any other safety measures taken at West Virginia Cashin?
A. We recognize the importance of watching storm water drain off – we don't dump liquids on the ground and keep the river clean in this manner.
Q. How often do employees take part in safety training?
A. We have safety meetings here twice a month and all employees participate. We cover different topics and have refresher courses every year. Some topics include respirator, first aid, blood-borne pathogen, lock-out tag-out, emergency evacuation and fire prevention training.
Q. What do you love about the recycling industry and WV Cashin?
A. I've done every position here at West Virginia Cashin since my Dad started the company in 1989. In the beginning, I was just a regular guy at the door, but I've moved on up. Even though I moved to California for three years I still ended up back here and started over again when I came back. It's a good place to be.
For more information regarding West Virginia Cashin Recyclables' safety program or to learn more about their recycling services visit wvcashin.com or call (304) 755-5187.