WV Cashin Coaches Clay County Recycling Center to Success
For over 20 years, West Virginia Cashin Recyclables has served the Nitro area and beyond by converting manufactured or demolition by-products into revenue rather than creating waste. Cashin has provided an essential service in the efforts to eliminate waste and partners with decision-makers to offer a viable solution to the ever-growing pressure of incorporating effective recycling programs into business plans.
Besides assisting communities and the state's recycling efforts, WV Cashin has no problem lending a helping hand to upcoming scrap metal yards.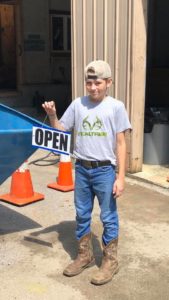 When owner W.T. Bevins began the mostly family-run Clay Recycling in 2018, the former miner turned to WV Cashin for advice and assistance in jumpstarting the business. The Clay County scrapyard currently serves all of Clay County, the community of Clendenin, and even into Roane County and accepts non-ferrous metals.
We sat down with W.T. to see how the relationship between the two scrap yards began and how the two businesses continue to advocate for each other:
What did you do prior to getting into the scrap metal industry?
I had a 13-year mining background, so I wasn't oblivious to scrap metal, however, I didn't know the in-depth nature of the business.
What inspired you to create Clay Recycling?
After being laid off from the mines, I saw that there was a need in our county for a recycling center.
How did you begin your relationship with WV Cashin?
When I got the idea that this is what I wanted to do, I just started reaching out to larger scrap companies to potentially work with. But honestly, Cashin was the only local company willing to help us get started.
In what ways did WV Cashin help with the start-up of Clay Recycling?
Prior to opening Clay Recycling, Cashin allowed me to go work on their scrapyard for about a week just to learn the ins and outs of operating a scrapyard. They even sold us a small used baler and provided us with a can trailer and blower to get started. Prior to receiving a grant, Cashin was coming to my scrapyard to pick up materials.
Do you take items to them or does Cashin still come to you?
We now take most materials to them. Before Cashin was coming to us to pick up materials until we were able to get our own truck and a handle on running a scrapyard.
What does Cashin purchase from you?
Usually, all non-ferrous metals, so that includes aluminum, copper, brass, nickel, radiators, and any sort of mixed-metals.
Would you recommend other start-up scrap businesses get in touch with WV Cashin?
Yes, I would because they were very open and are willing to help. They can see the bigger picture.
Clay Recycling is located at 276 Procious Maysel Rd in Clay and can be reached at 304-587-4220. Normal business hours are 8 a.m. until 4 p.m. Monday through Friday and 9 a.m. until 1 p.m. on Saturday.
However, due to the stay-at-home order in place, Clay Recycling is currently closed to the public. However, you can check for updates on Facebook.