A Recycling Partner – City Electric
City Electric, based out of Charleston, has been providing services to West Virginia and its surrounding states since 1981. Specializing in electric work for residential, commercial and industrial clients, City Electric takes pride in providing quality service to the region. Throughout all phases of construction, including electrical repair, lighting installation, reconstruction repair and generators service, no matter the job, whether big or small, City Electric generates a lot of scrap.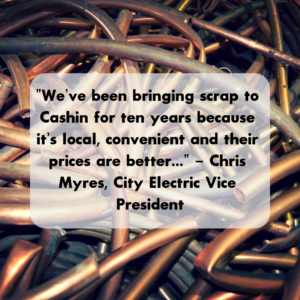 City Electric comes across insulated copper, stripped copper, old light fixtures, equipment, and other kinds of scrap metal daily. For a greater part of the last decade, they've been working with West Virginia Cashin Recyclables to earn extra money by exchanging their scrap materials for cash. Whether they're dropping off scrap, or tossing it in a West Virginia Cashin dumpster, this partnership is very beneficial for both companies.
Chris Myres, Vice President of City Electric, discusses the benefits of the partnership. "We've been bringing scrap to Cashin for ten years because it's local, convenient and their prices are better than most other recycling centers."
"I would recommend West Virginia Cashin to other businesses," says Myres, "they're friendly and easy to work with."
West Virginia Cashin works alongside companies to create unique and lasting partnerships that benefit all involved. Potential partners can request an on-site waste audit. The process is simple – our auditors analyze your waste and develop custom recycling solutions that best increase your bottom line.
"Working partnerships with organizations such as Charleston Area Medical Center, Bayer Crop Science, and NGK Sparkplugs are easy thanks to our customized processing programs. Each program is designed specifically for your company, allows for better efficiency, compliancy and value," says Gary Walker, West Virginia Cashin Buyer.
Contact West Virginia Cashin Recyclables today to learn more about how your company can implement a recycling plan that diverts waste from landfills and puts money in your pocket!